Adam Commens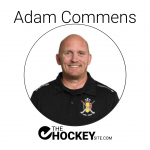 Adam Commens (1976) is a hockey coach from Australia. In his playing days he won a bronze in the Sydney Olympics. When missed out on the Athens Olympics due to injury he moved to Belgium.
Following his playing career he was asked by the Belgian federation to take on their national men's team (Red Lions) and within weeks he qualified for the Beijing Olympics with them.
He then moved back to Australia to coach their national women's team (Hockeyroos) winning World Cup silver in 2014. Following Rio 2016 he returned to Belgium where he became the High Performance Director for the Belgian federation.
For The Hockey Site Adam Commens talked about Values Based Coaching, one of the "secrets" for the recent rise to the top by Belgium.
Enjoy & #sharetheknowledge !
Clip is only visible when you're logged in as a member.
⛔️
You do not have sufficient rights to view the full content.
⛔️
⬇︎