Andreu Enrich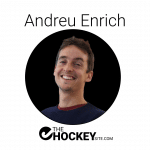 Andreu Enrich is a hockey coach from the famous hockey city of Terrassa in Spain. The former Spanish international player has playing and coaching experience in Spain, The Netherlands, Germany and Belgium.
He choose to end his international playing career in 2006 because he was not able to combine it anymore with the development project "Stick for India" he had set up together with Santi Freixa. A project set up to use hockey as a social development tool for the rural children of the Anantapur district in India.
In 2020 his playing days ended in Belgium and his coaching career really started in Germany. Mannheimer HC, one of Europe's top clubs asked him to become their head coach as of the 2020-2021 season.
Not only is Enrich a coach, a player, a philanthropist... He is also a philosopher, a thinker about hockey having written several books about hockey. As a hockey trainer he is most known as the champion for the SSG, the small sided games in hockey.
At The Hockey Site we asked Andreu Enrich for a coach chat about the small sided games in 2020 and another coach chat together with David Harte and Ric Charlesworth on the Pygmalion effect.
Enjoy & #sharetheknowledge !
Clip is only visible when you're logged in as a member.
⛔️
You do not have sufficient rights to view the full content.
⛔️
⬇︎