Coach Courses is our hub of all kinds of online courses to become a better coach. Study the elements of the coaching profession online at your own pace and wherever you are at that moment in time.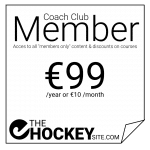 You will have the choice to either sign up for a single course and pay for this (unless it's a free course) or become a paid coach club member. As a paid member you will enjoy several courses without having to pay for them separately and others with an important discount… Either way you will be getting more than your money's worth. That we'll guarantee !
After all we stand for our hashtag #sharetheknowledge !