This page with our hockey coaching courses is our hub of all kinds of online courses to become a better field hockey coach. Study the elements of the coaching profession online at your own pace and wherever you are at that moment in time. Some of these courses are repurposed from our live & interactive masterclasses with video content for under 2 hours. Other hockey coaching courses can be divided into courses with between 2 and 4 hours worth of content and more in depth courses with over 4 hours of content.
All of these deal with 1 specific topic which could be technical, tactical, physical or mental. If a course has a more extensive exam you will get a certificate of completion instead of a certificate of attendance. Enjoy… 😉
Latest field hockey coaching courses ↓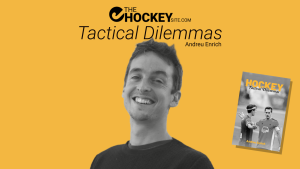 A masterclass by Andreu Enrich about tactical dilemmas, his latest book for hockey coaches. We touch on some of the chapters in his book and
More info »
Our hockey coach courses become cheaper or free if you're a member
You will have the choice to either sign up for a single course and pay for this (unless it's a free course) or become a paid member. As a hockey coach who is a member you will enjoy several hockey coaching courses without having to pay for them separately and others with an important discount… Either way you will be getting more than your money's worth. That we'll guarantee !
After all we stand for our hashtag #sharetheknowledge !
Also… to be clear we will not deliver courses to bring you along a certain coaching pathway. We believe that is the job for national or continental associations or the FIH Academy. We only bring courses on very specific topics to complement the work being done by others.