Common themes of top teams is the topic for this masterclass by Adam Commens.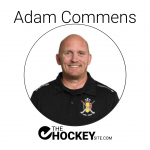 Adam Commens
Former international player for Australia 🇦🇺, Adam Commens, found a new home in Belgium 🇧🇪. As a coach he was the one who qualified Belgium for the first time in almost 4 decades for the Olympics again (Beijing 2008). He coached his original home country Australia at the Rio Olympics before returning to Belgium where he became the high performance director overseeing all national teams and youth development. As such he was one of the architects of the meteoric rise of Belgium culminating in gold medals at the World Cup (2018) and Olympics (Tokyo 2021). Commens delivered an earlier masterclass on Values Based Coaching, one we highly recommend as well ;)
Common themes of top teams
Being the high performance director of Belgium he is probably the perfect man to talk about the common themes of top teams, top players, top coaches. So what can we learn from his experience. He was an integral part of two different 🏑 teams with different cultures and in a different era who both went all the way to Olympic gold 🥇. What lessons can we learn from the commonalities between both these teams? Have some questions yourself for him?Join us in this live and interactive masterclass to ask him your own coaching questions.
See it live or on demand
As usual if you join us live it's free, if you want to watch it afterwards on demand, you need to be a member.
Here you'll find the live stream for this masterclass and afterwards the on demand video. In case you don't want to miss out on future masterclasses, make sure you join us as a free or paid member so we can send you our reminders whenever we go live…