Our next session design coach chat features Coach Pholo from South Africa 🇿🇦 sharing her practice with a focus on the open receiving & face the play.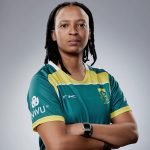 Coach Pholo
Coach Pholo played the Athens Olympics as a player for South Africa. Following her playing days she turned to coaching. She became a level 4 accredited FIH coach as well as a renowned coach educator for the FIH Academy. Today she runs her own hockey academy, coaches for the University of Johannesburg an is the striker coach for the SA national men's team.
Open receiving & face the play
Open receiving & face the play is the focus of our next session. Pholo will be building a 90 minute practice for your team focussed on the skills open receiving. At least that was the goal, but on the day we just started talking about open receiving in general and less about about he practice session.
So we were live on Friday April 22. We went live at 13h CEST in Europe, which would be 7am EST for the US & Canada, 9h in Buenos Aires, 12h in the UK, 14h in most of Africa, 17:30h in India or 20h AWST in Perth, Australia.
As usual if you joined us live it's free, if you want to watch it afterwards on demand, you need to be a member.
We'll host a live session design session every two weeks. Alternating between a session by Coach Pholo and one by a coach of the Sport101 organisation from the UK. Anyway, we hope you can join us live and if not you find value in the shared knowledge from our on demand content here.
See it live or on demand
Below you'll find the live stream and afterwards the on demand video recorded. If also in future you want to join the free live session make sure become a free or paid member. Watching this live is free, but afterwards the on demand replay will be members only... So enjoy ↓