Santi Freixa (1984) hails from the Spanish hockey Mekka: Terrassa, near Barcelona. He was a striker for Spain and his home club Atlètic Terrassa before moving to Amsterdam.
Today he is assistant coach for HC Bloemendaal in The Netherlands.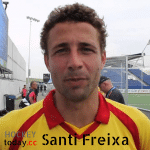 Clip is only visible when you're logged in as a member.