The power of a clean ego is the catchy title for the masterclass by Iain Shippey, mental coach to the men's team from South Africa. We were live on Friday 2022-09-23 in an interactive coaching masterclass.
Iain Shippey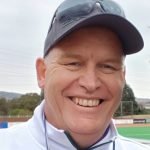 Iain Shippey is an experienced mental coach from South Africa 🇿🇦. He has worked for 3 World Cup cycles with the Springboks, the world class rugby team from South Africa, including a supporting role in the 2007 campaign when they won the World Cup. These last 3 years he has been involved with the coaching staff for the South Africa men's team. Who recently excelled with a 4th spot in the 2022 Commonwealth Games, when the previous edition in 2018 they came in last.
Shippey founded Thincsport in an endeavour to partner with players, coaches and parents – and consults to individual players, business leaders, coaches, schools, clubs and universities to help them seize the mental edge and develop into transformative leaders. He runs courses in Leadership and Applied Sports Psychology; and comes to life at the intersection of professional sport, coach mentorship and youth development – describing this as the juncture in which sport facilitates infinite possibility between Millennials and Generation Z.
The power of a clean ego
What is a clean ego? It's how you make decisions, set personal boundaries and maintain self-esteem. You take care of yourself, you feel good about who you are, and you stand by your values. These are signs of a healthy ego. It's when your ego takes over that conflicts begin. Ideal team players are humble, hungry & smart. Join us to find out more about this concept of a clean ego…
Following this masterclass we will launch several online courses & workshops together to go even deeper. But get a first taste check out his live & interactive masterclass.
Live or on demand
So we were live on Friday September 23 . As usual… If you join us live it's free, if you want to watch it afterwards on demand, you need to be a member.
Make sure you subscribe to our YouTube channel and set a reminder from there for the upcoming livestream you would like to see, so you get notified when we go live  Or even better, add this to your own calendar with the buttons below.