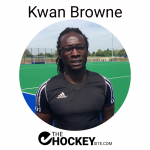 On September 17 we hosted another coach chat. Kwan Browne talked to us about the long corner defence. He is a former international player for Trinidad & Tobago.
Kwan has also enjoyed an illustrious domestic playing career in England and currently features for Hampstead & Westminster HC as a player/coach having also represented Canterbury and East Grinstead. In September 2020 he was also appointed as 'Head of Hockey' at Mill Hill school. Kwan also went to Tokyo recently as the assistant coach for the GB men.
So by now you#re too late because we were live at Friday 2021-09-17 at 11:30h UK time. Which would be 22:30h in New Zealand, 18h30 in Perth, 16:00h in India, 12:30h in Europe and most of Africa, 07:30h in Buenos Aires or 06:30h EDT for parts of the US & Canada.
As usual if you join us live it's free, if you want to watch it on demand you need to be a member.
We open our doors 30 minutes before the live session, so you can join us early. Have a talk with old and new friends in our lounge, as if they are sitting across the table from you. Bring your own drinks 😉 The lounge will also remain open for some timer after the live session for your networking or a casual chat with fellow coaches. We use Airmeet for our live coach chats & conferences.
Long corner defence by Kwan Browne
So enjoy the replay video below ⬇︎ and don't forget to #sharetheknowledge !
In case you could not join in live, the replay video from our coach chat with Kwan will be available for 3 more days following the live session. After that you need to be a member to watch this coach chat (and all previous chats) on demand.