The topic for this masterclass by Fede Tanuscio will be the penalty corner from the perspective of the attacking team or PCA if you will. The livestream was online for free on Friday, April 14. Afterwards you can watch it on demand (for subscribed and logged in members only) below.
PCA or penalty corner attack
The PCA is an iconic set piece for our game of hockey. An element that sets our game of hockey apart from other sports and a fan favourite moment always. We all know the names of global stars who excel at the drag flick. We sometimes forget you need at least 3 players for a perfect execution. But when PCD or defending the penalty corner changed these last years conversion rates dropped. And coaches and players looked for new ways. Tanuscio will look with us at many examples and options. As well as talk about how to train these.
Fede Tanuscio & The Hockey Sense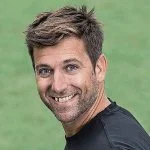 Born in Argentina Fede Tanuscio came to Europe to become a pro hockey player and played for Argentina and in several top leagues across Europe. These days he is the technical director for Luxembourg.
Together with his friends Lucas Rey and Lucas Cammareri he co-founded The Hockey Sense. They combine their experiences as international players and coaches in different parts of the world for the joint study and analysis of modern field hockey with the same goal we have here #sharetheknowledge.