The topic for this masterclass by Veronica Scott 🇦🇺 is coaching youth in different cultures. The livestream was online for free on Friday, April 21. Afterwards you can watch it on demand (for subscribed and logged in members only) below.
Veronica Scott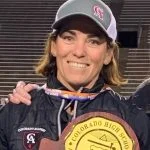 Veronica Scott is originally from Australia where she played and coached, before moving to play and coach in Europe. Back home she got her masters degree in Special Education & Teaching from the University of Southern Queensland. Her current chapter in life has her coaching for many years now already in the USA. Where she is director of field hockey at Colorado Academy.
Coaching youth in different cultures
Hockey is perceived, played, coached and managed in very different ways around the world. As is sports in general, we're no exception. So as one of those few who got to experience (competitive & recreational) sports in 3 different continents Veronica Scott wil share her experience. Looking at the differences and similarities of coaching youth in Australia, Belgium and the USA. Sharing her insights on coaching philosophy & styles. And while we're at it share some thoughts on the particularities of training and coaching Gen Z .