The 3rd in our SWOT series of masterclasses is the one where Siegfried Aikman 🇳🇱 talks about his SWOT analysis for 3 teams: Belgium, India and Great Britain.
SWOT for BEL, IND & GBR
SWOT is the acronym for Strengths, Weaknesses, Opportunities and Threats.  Aikman will talk about his analysis from these 3 teams based upon the most recent major events and previous games in the current Pro League. as always we hope the coaches who attend this live will bring their questions and make it an interactive event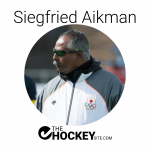 Siegfried Aikman
Siegfried Aikman (1959) is a hockey coach from The Netherlands. Aikman coached several clubs men & women in the Dutch leagues, as well as international teams. In 2017 he took on Japan a second time and qualified for the Tokyo Games winning the Asian championship. Following Tokyo Aikman accepted a new challenge with Pakistan.
Siegfried Aikman is a registered FIH Academy educator and for The Hockey Site he did a webinar on receiving skills in 2020.
See it live or on demand
As usual if you join our masterclass live it's free, if you want to watch it afterwards on demand, you need to be a member.
Here you'll find the live stream for this masterclass and afterwards the on demand video. In case you don't want to miss out on future masterclasses, make sure you join us as a free or paid member so we can send you our reminders whenever we go live…