Indoor hockey is the short format of our traditional 11v11 game. In most countries around the world it is being played indoor why it got its unfortunate name, because there is no reason why you should not play this game outdoors either :) Also, the added value of indoor hockey for our regular game is undeniable.
Rein van Eijk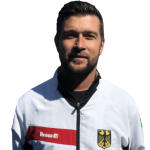 The Mekka for indoor hockey is Germany where they call it Hallenhockey. So we asked Rein van Eijk about the added value of indoor hockey. Why coaches should coach & play the short format of our game and how it benefits our 11v11 hockey.
Rein van Eijk is a coach from The Netherlands 🇳🇱 and had coaching roles at several prominent Dutch clubs. Following his role as the technical director of the youth academy at Amsterdam he decided to go for a new challenge in Germany 🇩🇪. In the summer of 2017 he became the head coach for the men from Berlin. Meanwhile he is also the head coach for the German U18 boys and in 2020 he was assistant coach for the men's German national indoor team. The day following our live coach chat with him he had to coach his Berlin team in the Final 4 for the German title indoor.
The added value of indoor hockey
There are many variations to our game of hockey. Ice hockey, floor hockey, roller hockey,... but only one of the variations to our game is really connected to our 11v11 game of hockey. The format the Germans call "Hallen Hockey" or as we know it... indoor hockey. The differences with our regular format are obvious. Still most if not all coaches agree there is a value to playing indoor hockey for our traditional 11v11 game. In this coach chat Rein van Eijk will tell us more about the added value of indoor hockey and how to get the most out of it as a coach for your team and players. Make sure to join in live so you can engage and ask him your own questions in our traditional Q&A. But if you can't make the livestream we will have a full replay on demand as well as several short clips soon after for our members.
In December 2021 we also featured a coach chat on indoor hockey, more specifically indoor goalie skills by Tobias Walter, the former goalkeeper for the German national team. We also have several short coach clips regarding indoor hockey available for our members. Watch these clips about indoor hockey by clicking here...
So we were live on Friday January 28. We went live at 13h CET in Europe, which would be 7am EST for the US & Canada, 9h in Buenos Aires, 12h in the UK, 14h in most of Africa, 17:30h in India or 20h AWST in Perth, Australia. As usual if you joined us live it's free, if you want to watch it afterwards on demand, you need to be a member.

See it on demand
Below you'll find the on demand video for the added value of indoor hockey after we were live on January 28, 2022. Make sure you subscribe to our YouTube channel and set the reminder for future coach chats.