Siegfried Aikman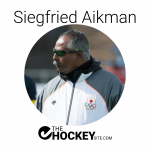 Siegfried Aikman (1959) is a hockey coach from The Netherlands. Aikman coached several clubs men & women in the Dutch leagues. He was the first coach to win a Dutch championship with the Den Bosch women who since became a legendary team winning the most titles in Holland and Europe.
Before the London 2012 Games he coached the Japanese men but could not qualify for the Games and returned to the Dutch league. In 2017 he took on Japan again and this time he did qualify for the Tokyo Games winning the Asian championship.
Siegfried Aikman is a registered FIH Academy educator and for The Hockey Site he did a webinar on receiving skills in 2020.
Enjoy & #sharetheknowledge !
https://www.youtube.com/watch?v=_LnaWNze5E8
⛔️
You do not have sufficient rights to view the full content.
⛔️
⬇︎