Carlos Retegui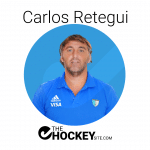 Carlos Retegui (1969) is a hockey coach from Argentina. Following his playing days in which he participated in 3 Olympics he took up coaching. Retegui is known for being a very demanding coach, expecting a lot from his players. But giving a lot of his own energy in return as well.
With Carlos Retegui at the helm his national women's team (Las Leonas) won World Cup gold and bronze, as well as Olympic silver. Coaching the men's national team of Argentina (Los Leones) he won World Cup bronze and Olympic gold in Rio 2016.
For The Hockey site he shared his knowledge early 2020 in an #AMA coach chat in Spanish with English subtitles.
Enjoy & #sharetheknowledge !
Clip is only visible when you're logged in as a member.
⛔️
You do not have sufficient rights to view the full content.
⛔️
⬇︎