Shane McLeod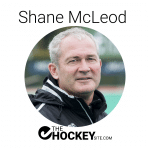 Shane McLeod (1968) is a hockey coach from New Zealand, but living in Belgium. Following his playing days, during which he moved to Belgium he became a coach for different clubs.
After coaching both youth and top hockey at club level in Belgium he coached the Belgian national women. For his next challenge he returned to New Zealand where he became the coach for the Black Sticks, the mens national team. Shane McLeod coach the Black Sticks at the Olympics before returning to Belgium. Soon after his return to Belgian club hockey he got offered the position of head coach for the mens national team of Belgium (Red Lions) which he led to silver in Rio 2016, world cup gold in 2018 and the European championship in 2019.
For us at thehockeysite.com he has shared his knowledge in a #AMA coach chat in 2020.
Enjoy & #sharetheknowledge !
Clip is only visible when you're logged in as a member.
⛔️
You do not have sufficient rights to view the full content.
⛔️
⬇︎